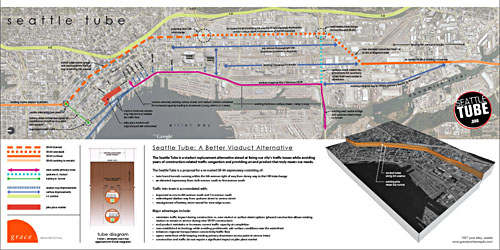 (Click Image to Download and print a PDF)
Citizens for Seattle Tube is a grass roots organization promoting an innovative traffic strategy to maintain critical commerce links and improve Seattle's vitality through the construction of an uptown tunnel.  For the last decade, City of Seattle and Washington State Department of Transportation officials have struggled with creating a viable strategy for replacing the aging Alaska Way Viaduct spanning nearly two miles of the city's waterfront.  The six lane structure built in the 1950's carries up to 110,000 cars, trucks and busses on a daily basis.  Carrying one quarter of the traffic through the Seattle corridor, the viaduct is a critical link between neighborhoods and business districts north and south of downtown.  Without this non-stop expressway, many argue that transportation engineers could produce the traffic jam equivalent of the perfect storm–ultimately leading to a "Berlin Wall effect".
Many proposals have been studied by state transportation officials for the viaduct's replacement including ideas ranging from an elaborate waterfront suspension bridge to a cut-and-cover tunnel that would rival the complexity and expense of Boston's Big Dig project.  Seattle voters turned down Ballot Measure 2 in March of 2007–defeating a proposition to build a $2.8 billion replacement viaduct by 55% and rejecting Mayor Nickels preferred $3.4 billion waterfront lidded trench tunnel by 70%.  Either option doomed Seattle commuters to more than eight years of traffic gridlock during construction.   
TIMING IS CRITICAL
The Washington State Department of Transportation recently announced that it has studied eight different options to replace the Alaskan Way Viaduct.  The decision has been narrowed to two possibilities–an elevated 4-lane waterfront expressway, or to eliminate the express way all together and develop a surface street plan that encourages more people to use public transportation.  Opponents argue that either option restricts the flow of commerce in the region. Washington State Governor, Christine Gregoire is slated to make a final decision in early-January 2009 which many fear will stifle Seattle's vitality for decades to come. 
According to the Seattle Times, a 2006 study by Herbert Research revealed that the economic impact of closing the Alaskan Way Viaduct could amount to a loss of $3.4 billion to the region.  The study further concluded that 32,146 jobs would be lost along with $231 million in tax revenues.
While traffic planners have been stuck on offering up scenarios  within the confines of the existing waterfront expressway, Citizens for Seattle Tube is promoting an "out of the box" solution for the replacement of the Alaskan Way Viaduct that can be constructed while the viaduct remains in use.  Seattle Tube is proposing the development of a bored tunnel under city right-of-ways on 6th and 7th avenues running through downtown.  The Tube will span from the north end of the existing Battery Street Tunnel to a lightly traveled area south of the International District east of Quest Field.  An ongoing engineering analysis being conducted by Grace Architects of Seattle indicates that there may be ample room for tunnel boring without having to go down deep.  The advantages of this route are that it is more direct, it's away from the congested waterfront, it will not have steep grades to slow up trucks, and construction will not impede traffic flow for significant periods of time.  
A new proposed expressway will efficiently tie the tunnel to the existing state highway route  99 south of downtown to allow improved city access and thoroughfare for the neighborhoods of West Seattle, Ballard, Burian, Queen Anne, Fremont, Magnolia , White Center, South Park, Georgetown, Beacon Hill, South Lake Union, Des Moines, Seatac, and Tukwilla.  The preliminary details of the Seattle Tube plan are ultimately calling for an elevated expressway to be built over 6th Avenue South with an interchange at Spokane Street and a terminus on First Avenue South & Diagonal Street as well repurposing the Battery Street Tunnel as an egress to Seattle's downtown West Edge neighborhood at Western Avenue. A proposed south city interchange near the ball parks will enable better integration with I-90 and I-5.   The plan also allows the existing SR99 route to be terminated at Royal Brougham Way, near Safeco Field to provide easier access for northbound traffic to the Port of Seattle Terminals, Coleman Ferry Dock, and Sodo District .
The Seattle Tube plan utilizes proven and cost-effective tunnel boring technologies that have been successfully deployed on projects around the world including the famed tunnel under the English channel connecting the United Kingdom and France.   King County has three major tunnel boring projects underway for municipality and transit systems durring 2008.  The longest tunnel under construction, the 18 foot diameter Brightwater Conveyance System, is more than 13 miles long.  Seattleites hardly noticed the construction of a 1.2 mile long 15′ diameter sewer tunnel being bored under their feet last year which was large enough to drive a bus through Queen Anne Hill.  
According to The Robbins Company in Kent, WA who participated in the construction of the downtown bus tunnel, the substrate under 6th and 7th Avenue is similar to the substrate under Beacon Hill where Sound Transit just completed a 21 ft. diameter twin bore for the new light rail system.  The Robbins Company is one of the leading world suppliers of TBM's (Tunnel Boring Machines).  Existing TBM's can produce tunnels large enough to carry more than three lanes of traffic.  Surprisingly, neither state or city officials have contacted The Robbins Co. about tunneling possibilities according to one of the company's sales managers, Tyler Sandell.
A waterfront bored tunnel option was recently considered by Washington State Department of Transportation, but due to the nature of the challenging substrates,  $1.3 billion was padded onto the estimate to cover the potential risk of drilling through the soft beach mud under Alaskan Way according to a member of the WSDOT Viaduct Stake Holder Committee.  Cascadia Center for Regional Development reports that WSDOT over estimated the cost of the waterfront bored tunnel option by burdening it with $900 million allotted for surface street improvements and $350 million for replacement of the waterfront seawall. Cascadia sited that these items should not have been included in the bored tunnel cost equation concluding that a bored tunnel would come in under $2 billion–well within the cost range of other options.  Seattle Tube contends that its tunnel approach would be even less costly as the uptown construction area is more suitable for boring.
Tunnel opponents fear earthquake effects on tunnels, but tunnel boring engineers site that the tubular shape and flexible lining technologies make bored tunnels less susceptible to damage than elevated structures.  One engineer put it this way, "A ship on a stormy sea will pitch and roll wildly in the waves while the fish sleep silently below" — alluding to the amplified forces earthquakes deliver to above ground structures.  Nevertheless,  Citizens for Seattle Tube plans to educate Seattle residents about seismic and other safety aspects of bored tunnels.
A recent hour long interview with Seattle Tube instigator, David Petrich on KIRO's Dori Monson Radio Show kindled hope for crosstown commuters who don't want to give up their jobs and businesses.   Since the December 16th prime time radio show exposure, Seattle Tube's web site traffic has grown fifty times according to their web hosting service.  Reaching concerned commuters is their primary objective, but Citizens for Seattle Tube also see an immense opportunity to free Seattle from an industrial-age traffic laden waterfront to one that exudes international appeal with open public spaces and integrated metropolitan retail districts.
TAKE ACTION NOW:
Time is of the essence to save Seattle from years of traffic gridlock and economic hardship. Concerned citizens are advise to immediately contact the Mayor, the Seattle City Council, Seattle Department of Transportation (SDOT), Washington Department of Transportation (WSDOT), and most importantly, the Governors office to encourage serious consideration of the Seattle Tube alternative for replacing the Alaskan Way Viaduct. For more information visit www.SeattleTUBE.org. Should you wish to speak with someone about Citizens for Seattle Tube or become actively involved in our campaign, please call 206-355-0133 or email at info@SeattleTUBE.org.