Seattle Department of Transportation (SDOT) will soon be breaking ground on upgrading the aging east end of the West Seattle bridge. Major utility conduits are already being re-routed to make room for the new construction. Upgrades include a new two-lane exit to 4th Avenue South, providing West Seattle better access to downtown. A new on and off ramp is being added to the westbound lanes from 1st Avenue to replace the old ramp (which will be torn down) presently on 4th Avenue. This means that some down town commuters will go to work on 4th Avenue South and return on 1st Avenue South.
Citizens for Seattle Tube are requesting that SDOT consider allowing integration of the West Seattle Bridge 4th Avenue exit ramps with the proposed SoDo Expressway. The SoDo Express way, straddled over 6th Avenue South, is promised to give West Seattle rapid access to the north side of the city as well as a less congested route to reach I-90.
Seattle Tube anticipates that SDOT will welcome the idea since it will reduce congestion at the I-5 interchange which is currently one of two major bottlenecks for West Seattle in the morning commute. The proposed eastbound SoDo "fly over" ramp will also lighten up the traffic load on the other morning bottle neck where trucks and buses presently slow to a crawl to negotiate the tight turn onto the old northbound 99 route.
In a meeting yesterday with Councilman Tom Rasmussen and Cascadia Director Bruce Agnew, who viewed the Seattle Tube traffic plan, words of encouragement were offered as they both agreed the proposal should be looked at very closely by both SDOT and WSDOT since it could solve a number of traffic problems plaguing the city. The proposed plan included a bored tunnel under downtown as a new alternative to the Alaska Way Viaduct replacement project.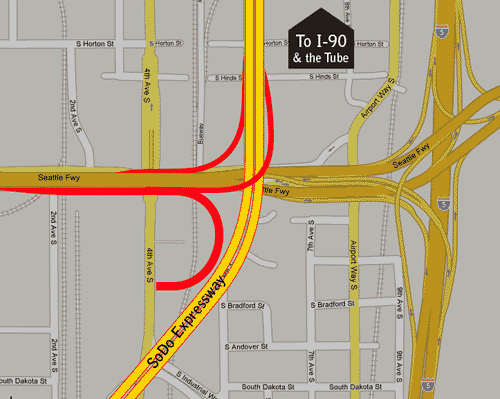 Above is the proposed West Seattle – SoDo Expressway interchange. Bellow is the current SDOT plan.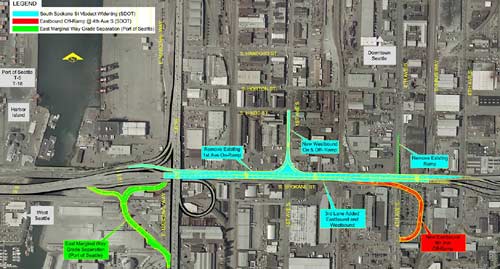 Source: Seattle Department of Transportation South Spokane Street Project